Workshop: summary
Day 2: Curriculum Development
Peter Read opened the 2nd day session with a discussion of fluid dynamics and climate for physics majors. Physics majors in the majority of the UK are not exposed to fluid dynamics in their physics curriculum. Expanding the curriculum to include fluid dynamics would be advantageous because fluid flow is relevant to the every day experience and many applications (astrophysics, biophysics, engineering, etc), and it allows for the introduction of the idea of nonlinearity into the system. The Oxford program for physics majors begins with introductory lectures in the 3rd year accompanied by a practical experiment with a partner. The lectures span the basic equations of fluid flow, conservation, models, vorticity, surface water waves, viscous flows, elementary rotating fluids, and inviscid irrotational flows. Lecture style demonstrations and observations from the real world are utilized to engage the students. The practical experiments make use of a surface water wave tank and a rotating annulus. Analogies between the experiments and the real world observations are made to bring points home. The program concludes in the 4th year with an optional specialist lecture and a research project. The research projects include more complicated rotating annulus projects, density fronts, and barotropically unstable polygonal jets.
Satoshi Sokai described two models of learning: the hierarchical progression based on logic and the scale-free network (SFN). Although the SFN is unprincipled, chaotic, inefficient, and appears to have no clear logical progression, it results in greater findings and has benefits like a flexible, more natural learning environment. However, one can still find the more efficient systematic network within a smaller area of the scale-free network.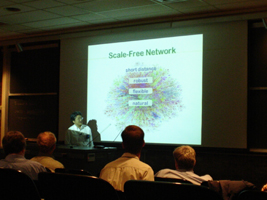 College-level liberal arts education could benefit from the SFN model. Some physical demonstrations of GFD ( the Ekman spiral and internal gravity waves) were cast in this light. (More detailed descriptions are available on the atmosphere and oceans in a laboratory website.)
Amit Tandon gave a talk about the implementation of tank experiments in an undergraduate setting. He emphasized the hands on nature of the course, but stressed that delivery is key and encouraged the students to come up with extensions and new ideas for the experiments. Using a gridded worksheet, students are instructed to make predictions of how the flow in a dye stirring experiment will change as a result of increased rotation and agitation. Increased levels of difficulty can be acquired by asking questions about the timescale within which their projections will develop. Experiments occurring within the course included solid body rotation, fronts, Ekman layers, Hadley cells and baroclinic eddies. An example of student initialtive was a new experiment to include wind forcing, using computer fans on lowest speeds arranged strategically above the surface of the water in a circular rotating tank.